Black Knights close out spring practice with the Black Gold game.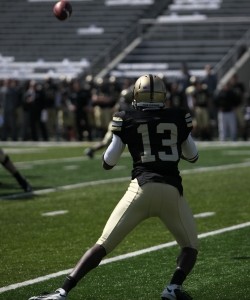 It was a crisp spring day at West Point on Saturday, with temperatures measuring in the mid-50's as the Army squad closed out their spring practice with the traditional Black & Gold football game.
The game saw the Black (offense) minus the traditional triple option go head-to-head with the Gold (defense).
On the first series
Trent Steelman
was under center and supported by the first unit offensive line and backfield. Behind the sophomore quarterback was fullback, Jared Hassin, who only received a few touches in his cameo, and slotbacks
Patrick Mealy
and
Jameson Carter
. On the flanks at receiver were
Davyd Brooks
and
Austin Barr
.
The first play of the scrimmage saw an effective play action by Steelman as he threw 36 yards downfield to Brooks, who dropped what should have been his first reception of the day.
However, after that, anything thrown Brooks' way, the 6-foot-3, 200 pound Newburg, New York product pulled in. One of those receptions came on the second offensive series where he made a 26 yard finger tip catch from Steelman in the end zone for a touchdown.
Speaking of the first series, on back-to-back plays Mealy and Carter jaunted for 6 and 8 yards respectively, that was followed by a pass to Hassin that resulted in a net of 14 yards (YAC).
The drive also saw Carter with 3-4 touches and was capped off by a 6 yard touchdown run by Mealy as he leaped into the end-zone from 2 yards out.
NOTABLES
Junior quarterback
Jimmy Reitter
took snaps on the 3rd offensive series and converted cornerback and newcomer,
Marquis Morris
saw reps at slotback.
Sophomore
Brian Cobbs
is also making the transition from corner to slot and was on the receiving end of a vicious hit by linebacker
Justin Schaaf
, that knocked Cobbs out for a couple of plays. Luckily, Cobbs just had the wind knocked out of him.
The first team defense was in full effect as they lived up to the swarm reputation. They consistently had 3-4 players around the ball.
Linebacker
Andrew Rodriguez
, defensive tackle
Chris Swain
and free safety
Donovan Travis
were very active, as was linebacker
Steve Erzinger
. The 6-foot-1, 220 pound Erzinger played extremely physical throughout the session and took out an offensive lineman to disrupt one play in particular.
With
Max Jenkins
back home due to the untimely death of his father, junior
Taylor Hall
spilt time at quarterback with Reitter. On Hall's first snap from center, he threw a lob into the center of the field that was picked off by Travis. However before the ensuing play, Steelman made his way from the sidelines to the huddle to encourage and instruct Hall. Clearly, Steelman is taking a more active leadership role on this team.
Reitter showed glimpse of what he can do as he hit Brooks on a fade pattern, as the receiver made a nice over the shoulder catch.
Sophomore running back
Lonnie Liggins
was very active today and showed no signs of being slowed down by his previously injured knee. Although whenever Liggins touched the ball the lanes were close, he ran hard throughout the afternoon.
Like Liggins, running back
Kelechi Odocha
received plenty of reps, but unfortunately the first team defense locked him down. But the speedy sophomore back had the best run of the day, as he scampered 15 yards on a pitchout.
Wide receiver
Malcolm Brown
sat out today's game. It will be interesting to see if the athletic Brown remains at receiver or moved back to the slotback spot.
Linebacker
Jack Finan
pulled down an interception and technically would have had an 80 yard touchdown, but the officials blew their whistles before Finan hit paydirt.
Kicker
Alex Carlton
had trouble throughout the afternoon, as he missed on two relatively easy opportunities from 30 yards out.
The USMAPS team was on hand to take in the game. One notable that was missing was defensive end
Julius Warmsley
. Warmsley, along with a few other players remained behind to participate in the prep school's track meet.
Stay tuned to GoBlackKnights.com as we will have video interviews from several players, along with our Photo Feature from today's Black & Gold contest.