Brandon Jackson: Army Football Player & West Point Cadet - R.I.P.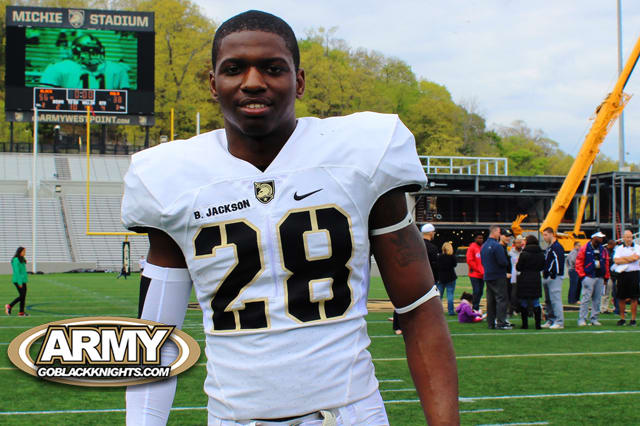 It's called life and with it comes some questions that just can't be answered, at least in this life time.
Just 4 months ago I had a Dissecting Aortic Aneurysm, and I was just moments away from my life on this earth being gone. But through the skill of a tremendous cardiac surgeon, followed by great medical care and a very supportive family ... I am now back in the saddle.
So yes, I consider myself blessed to be alive.
However, on the other side of the equation and on the same weekend that our nation commemorates the horrific 15 year old terrorist attack on America that all or most commonly call, 9/11 ... someone whose life was just unfolding and his eventual career as an Army officer would be to protect our freedom here in America, well his life was taken from us.
Cadet Brandon Jackson lost his life on Sunday, as this vibrant young man was involved in a car accident (Croton-on-Hudson, New York) and unfortunately he did not survive and we were told that he passed away approximately 1am EST (official details will follow).
As a father of three children, losing a child is probably the worse news one can receive. So, my heart and prayers go out to the parents of this fine young man.
Although I didn't know Brandon well, or to be more precise .... I only had the privilege of meeting him twice [2016 Black & Gold Spring Game] and in a later interview. But from where I sat, you didn't need to spend an exuberant amount of time with him to recognize that he was a stellar gentleman.
And just so that you know that I am keeping it real, he was a very gifted football player, who I personally enjoyed watching play, as well as his continuous maturation on the football field.
I take special interest when I see young people who have found the path to enterprising social change while serving people – even within the academic-athletic arena. This represents the best of what our nation can be – an agent of positive social change delivered in the context of superior value in commercial transaction.
I believe Brandon Jackson had those gifts and talents, and was a great example of leadership that exemplifies the mission & vision of a West Point Cadet and Army Football Player.
"We will honor his life as we mourn the untimely death of a young man who had a promising future as a leader in service to our Nation." said Lt. Gen. Robert L. Caslen Jr., Superintendent of the U.S. Military Academy. "Brandon internalized our watch words, Duty, Honor, Country."
"Words cannot describe the grief that our team is feeling over the loss of our brother and friend, Brandon" said head coach Jeff Monken. "He was a beloved teammate and our hearts are with his family at this time of tragedy."
Rest In Peace Brandon, Rest In Peace
1 Corinthians 2:9
9 But as it is written, Eye hath not seen, nor ear heard, neither have entered into the heart of man, the things which God hath prepared for them that love him.