Collin Mooney shares his thoughts on the season and Navy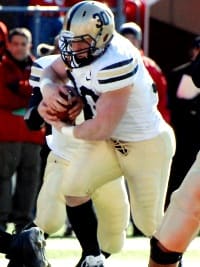 Coming into the 2008 football campaign, there was an air of confidence brewing from the Army coaching staff on the potential of Army senior fullback Collin Mooney. Though the bulldog tough senior had to wait his turn behind Mike Viti, when he did get into games you could tell that he had the tools. Had it not been for a foot out of bounds against Temple last season, Mooney would have taken his first reception of 2007 into the end zone. Though he may have had to wait his turn, he is certainly taking advantage of the opportunity he has been given as Army's starting fullback this year.
With one game left to go, Mooney is only 54 yards away from breaking the single season rushing record at West Point. With 1,285 yards thus far, Mooney has the chance to put his name above former Army greats like Mike Mayweather, Carlton Jones, Pete Dawkins, and Michael Wallace. But it is the character and humility of Mooney that make him that much more special, and it's a big reason why his teammates and coaches pull for him each and every game. And his talent on the field is what makes opposing coaches shudder.
Prior to the 2008 season, Mooney had not carried the ball much and was primarily used as a blocking back, especially in short yardage situations. Having to carry the lion share of the Black Knight carries was something that the Texas native had to adjust to. "It's definitely been an experience, something I have not done for a while. I haven't run the ball since my freshman year in high school. Going into the season, I didn't anticipate as much success as I have had. The coaches would tell me that I could get a thousand yards or 1500 yards, and I would sort of look at them and say, let's calm down here. But now I realize it's attainable, not saying 1500 yards for the year, but a 1300 yard year would be pretty good, pretty respectable. It's been a good season, I didn't anticipate this much success, but I am happy with it."
Carrying the ball as many times per game as Mooney does, it can take a toll on a player – especially one that is getting hit hard by opposing linemen and linebackers on every play. Adjusting to carrying the ball is one thing, but managing through the physical demands of a fullback is a different challenge entirely. "After the spring, I knew I was going to have to do something because following spring ball, I was just beat. The number of times I had been hit, the number of times running the ball, I had actually hurt my ankle in the second to last practice. I knew going into the season that I was going to have to be physically prepared to take a lot of shots, and I knew I was going to get hit every time I run the dive, so I really focused on getting into shape."
Being so close to reaching the single season rushing record is not an item wasted on Mooney. He is cognizant of the record and what it means, not just about his own play, but that of the teammates that helped get him there as well. "It's a big deal to me, just to be on that list with guys like Mike Mayweather, who is the leader, then guys like Pete Dawkins, Glenn Davis, and Doc Blanchard, it's just huge for me. Being some kid from Caty, Texas, that came in here three years ago, not even knowing if he was going to play or what his situation was, coming in and playing fullback, a position I hadn't really played much of, it's just weird to think of myself in that category. It's a huge deal for me, and this team. I think it will be a success to the team because getting me to that record means that everyone on the team has played their part. The offensive line has played their part in blocking for me, and the quarterback has made the right reads to get me the ball, and the slots blocking for me, I think it's a team effort that has gotten me to this point."
What do you think happened between the Texas A&M and Tulane game, where all the sudden you broke out and started having these monster games?
It's hard to tell. I think as a team we changed, I don't think it was just me. There are a lot of elements involved, from the line, the athleticism of Chip Bowden – in the Texas A&M game he ran for 132 yards, and that took a lot of focus off of me. They were keying on me, they were on playing me a lot more, and after the A&M game teams realized that they really had to stop him as well. So that really opened me up for the Tulane game, and the games after that. It became more a threat than just me, it became Chip, and the slots really did a good job in that A&M game as well. I think that opened it up for me.
Mooney's potential was something that Army Coach Stan Brock anticipated, and it is something he has enjoyed seeing flourish over the season. "When we changed to this offense, we felt that Collin would be a guy that would be a great fit in that fullback position," explains the Army mentor. "Then you start thinking about all of the other things he brings to the table, how hard he works and his leadership ability, how strong he is, and really the speed that he has, and then you start really getting excited, thinking he could be awesome in this offense. Then when you watch him go out in spring ball, and just watch him be successful and pick up the nuances of being a fullback in this system, you could see that he could be very special. I think as the season went on, and this is a tribute to him and how hard he works, people understood what we were doing. We were trying to give him the ball any way we can, that he's a great weapon for us. They'll set up their whole defensive scheme to stop him, and he'll still end up with a lot of carries and a lot of yards. He's a great human being, a great person, he's a great leader, and he's going to do whatever he wants career wise, and beyond all that, he's a heck of a football player."
His performance on the field is what opposing defenses are most acutely aware of, and he is a key element in their game-planning. Though Navy has had good success in shutting down Army the past few years, Head Coach Ken Niumatalolo knows that Mooney is a threat to wear down his defense. "We have to find a way to get him on the ground," starts the first year Navy head coach. "He's a very good back, he's rushed for a ton of yards, and everybody knows he's going to run the ball and they still have a hard time stopping him, so it shows what kind of scheme they have and how good the kid is. People know that they have to stop Mooney, but he's still able to get his yardage. We're going to have our hands full trying to stop him."
With all of the improvements the Army football team has made this season, Mooney is intent on his last game of the year, and his last chance to beat Navy. "I want to win this game so bad. The past three years losing to them, it just hurts every year and I want it real bad this year, my senior year."
After watching the Army seniors stand behind Navy for the past three years as the Naval Alma Mater is the last song played after the game, Mooney has an added sense of motivation to make sure that does not happen this year. "It's tough, seeing the seniors before you having to sing first, you want to be that team that sings last. Seeing some of those guys in tears after that game, it's the last game, they didn't win, they never beat Navy, it motivates you and makes you want to be better and to win. It's hard to see that. I have that picture in my mind and it helps motivate me."
Like any former Army or Navy player will tell you, the Army-Navy game is truly something special. For Collin Mooney, it is about the purity of it all. "I've thought about that the last couple of weeks. The more I think about it, all of the things going on in the world – terrorism, the economy not doing too well, corruption – I think the Army-Navy game is something people can look and say that's something good. Two teams with guys that are doing something good for their country. They can look at it as hope for the country. They can see it as something good. It's a pure rivalry and pure competition between guys that are out there because they love the game, not for any other reason."
With one last chance to beat Navy and end a great year, Mooney is going to give it all he has. "I'm going to play it like what it is - my last game. The emotion is going to be high. I am going to play as hard as I can, and whatever happens, happens. I am going to give all I can, that is all I can ask of myself.
And for Army fans, if Mooney gives all he can, that just may be enough to break the Navy streak and give Army the win.