GBK: The State of the Union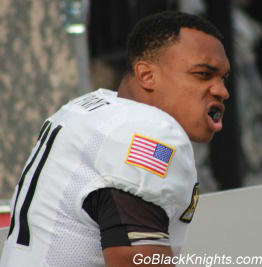 Early this week, we kicked things off with the "Army Mid-Season Review, which was to be followed by our one-on-one with Black Knights' Head Coach Rich Ellerson.
However, a change in venue is in order. The Ellerson interview will be forthcoming first thing Saturday morning, but we were impressed with the commentary of one of GoBlackKnights' regular posters/subscribers [Oboat]. As such, he agreed & we decided to get it out there for the Army football fan base to read, digest, as well as add their comments and thoughts on this subject that we call, "The State of the Union".
The State of the Union
For those that know me on this board, I have a tendency to let my frustration be seen (heard) when I see Army start heading down the spiral of losing.  Coming into this season, I was able to - for the first time - not let my emotions and desire for wins get unreasonably high.  Based on our personnel, our ability to prepare, our scheme, and our competition, this is where I saw us:
Morgan State (Win)
Ball State (Loss)
Stanford (Loss)
Wake Forest (Toss Up)
Louisiana Tech (Win)
Boston College (Loss)
Eastern Michigan (Win)
Temple (Loss)
Air Force (Win)
Western Kentucky (Loss)
Hawaii (Loss)
Navy (Loss)
Based on all the factors, I had us at 4-8, potentially 5-7 if we could catch a break.  
So as I have watched this season transpire, I can't say I have been surprised.  I was disappointed with Wake Forest - I felt like the coaches sat on the ball at the end of the game and gave up.  That was a win that was needed, and the team could not put it together.  Outside of that, I feel like Army has given us what I expected.
I did not expect the injuries to hit as hard as they did.  I mean seriously, at Temple we had
Raymond Maples
,
A.J. Schurr
,
Hayden Tippett
and
Chevaughn Lawrence
down on offense, with
Angel Santiago
getting knocked out in the second quarter.  We had four starters out on defense.  But there is no way I expected Army to beat Temple.  Not after we saw what Temple's size and speed did to us the past two years.  Yes, their head coach went to BC (and continued his destruction of Army there), but the big and fast players remained at Temple.  I certainly did not expect to see us hand turnovers and touchdowns from the offensive side of the ball.  
I am going to hold off on the coaching staff for a moment, because I believe Army's real problem is much deeper than coaching.  I think there is an institutional issue that will not allow anyone to field a winning program at West Point.  You could bring in Urban Meyer or Nick Saban, and they would be hard pressed to ever be bowl eligible prior to Navy.  Army simply has not made the commitment to winning.  And that has nothing to do with the coaches.  I believe that's the only place they have tried to put some effort into it.  If you want to have the best looking lawn, and you put down some beautiful sod, it doesn't mean crap if you don't water, fertilize, and cut it.  Or more bluntly, you can put lipstick on a pig.
Army brought in the "Blue Ribbon" panel.  I am sure there are binders on what folks believe need to be done to field a winning program.  I am also pretty sure that outside of hiring a coach that runs the option on offense, most of it has been ignored.  
The Reality
Let's first state the obvious.  The US has been at war for 12 years, and what you see on the news is the casualties of war.  And that's the Army.  The Air Force gets to send their jets and drones over to blow stuff up.  The Navy runs aircraft carriers and can fire missiles off battleships.  The SEALs are the heroes that got Bin Laden.  But the Army, they are the ones who come home in flag draped coffins.  Moms and Dads aren't apt to push for that, and if you think for a second that Air Force and Navy don't use that to recruit, pass me some of whatever you are smoking.  Oh, and 95% of the high school recruits out there don't even qualify for West Point.  So we now have to talk that remaining small percentage into becoming cadets.  So that's the first challenge - getting players in the door.  And if you think Army doesn't think about this, tell me why NOTHING has been done to honor Chase Prasnicki since he gave the ultimate sacrifice. In the public eye, Army shy's from the realities of what makes them uniquely honorable.
The next piece is what happens when they get here.  They go directly to Beast Barracks, where they are subjected to lack of nutrition, lack of sleep, lack of football conditioning, and their bodies are decimated coming into summer ball.  Right off the bat, they are 18 months behind their contemporaries at other D-1 programs (where players can red shirt (12 months) and don't have to spend six months just getting the mass and speed back they lose at Beast.  
The fact that we have freshmen who are two star athletes out of high school then lose 10-20 pounds at beast, yet come out and start for us tells you that we are at a distinct disadvantage.  And don't tell me Air Force and Navy have the same challenges.  
Let's be straight here - NO other football program in America goes through what Army does in terms of summer training and requirements throughout the year.  And Buckner does the same thing to these guys between their freshman and sophomore years. I am fed up with hearing that Navy and Air Force are equals in this regard. They just aren't.  
Nutrition
Next is the nutrition and sleep program, just as important (and arguably more important) as the Strength and Conditioning program.  Army players just don't get the necessary sleep.  I would argue that if they get 5 hours a night, that is a lot.  And that is about half of what they should be getting.  They don't eat properly either.  They should have a structured diet that matches their sleep and conditioning program.  That's what good D-1 programs do across America.
Academics
Now you have Academics.  Anyone see
Terry Baggett's
schedule on the Mark May ESPN piece last week?  Up before dawn and not back at the barracks until after sundown.  A schedule filled with classes that I would be kicked out of after the first exam.  I know people hate Ellerson's morning practices, but he pulls the players out of the most expendable part of their day (before classes) to open up the afternoon for meetings, S&C, or actual cadet activities / studying, with the hope that it will allow the cadet to get more rest.  
Institutionally, things have got to change.  Academic schedules need to be adjusted to allow for lighter loads during football season.  Beast Barracks, Buckner, and summer training needs to be adjusted to allow for proper nutrition and conditioning.  Sleep schedules need to be monitored.  The Academy should have a set of standards that a cadet needs to complete to graduate, and football players should be afforded a schedule and structure within their four years that allows them to meet those standards but at a different schedule.  Hell, we have a prep school that we send most of our football players to that is taxpayer subsidized.  
Allow football players to complete requirements during their prep school year that can be applied to their four years at the Academy.  There are so many options out there that can be explored if the Academy and administration want to commit to winning, and it can be done without detracting from the experience and preparation of the cadet, or the standards required of them.  It just comes down to what folks are willing to do.
Coaching
Which finally brings us to coaching.  At this point, the common war cry is that Ellerson and staff must go.  That he is not the guy.  How long are we going to do this?  We have had four coaches come through here in the last 13 years (five if you include John Mumford), and they all have struggled.  Todd Berry was a great 1-AA coach (as was Paul Johnson) who won prior to coming to West Point, and has had success since.  Bobby Ross was a college national champion and super bowl participant.  Stan Brock was just screwed and never given a chance, so I don't even look at that one.  And Rich Ellerson built a very strong 1-AA program at Cal Poly that beat Wisconsin, and had been an incredible defensive coordinator back in the day.  Yet they all come here and fail.  They lose.  At some point, you have to look at the root cause.  All of the sudden, coaches come here and they can't develop talent? Look above at what a coach has to deal with. That's where the magnifying glass needs to be.
Bobby Ross was the only one that I felt really had the team moving in the right direction.  He was able to push the envelope with the cadet / football balance, he was a good football coach, and he had Army believing again.  He just ran out of gas.
I think the Caleb Campbell debacle also had a significant impact on the program as well.  I think that LTG Hagenbeck, who helped and supported the alternative service policy got so screwed and smacked in the process, that all of the progress made in the program was rolled back.
Army has not been a truly competitive D1 football team since the early days of Tom Cahill.  The Jim Young years, while I love them, were stacked with D-1AA wins (4 per year).  Since 1971, that's right, in 42 years, only one Army team has won six or more games against D-1 opponents in the regular season - the 1996 team.  That's it. Compare that to any other program in America, and you see that coaching is the least of our issues, and without fixing the underlying problems, a coaching change won't do jack.
There are coaching issues with this staff.  No doubt.  We have listed them over and over.  But don't expect a coaching change to bring you wins and bowl games any time soon without a heck of a lot of other things being done in parallel.
** GoBlackKnights.com presents the Army team store where you can buy jerseys, hats, hoodies, t-shirts, jackets, and more, which make great Holiday gifts. CLICK HERE to start your shopping. **