JOIN GBK NOW and get $99 in Army West Point gear!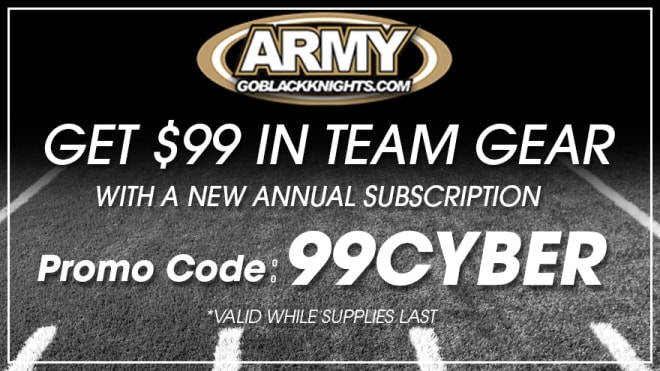 Our best promotion ever is back!
While supplies last, new annual subscribers to GoBlackKnights.com will get a FREE gift code for $99 worth of team gear at the Rivals Fan Shop.
So you get the best coverage of Army football and recruiting, PLUS $99 worth of Army Black Knights gear from our store!
**
WHY SUBSCRIBE? Become a GoBlackKnights.com member and gain access to our recruiting coverage, football analysis, and more at The 12th Knight premium message board.
We are the home of the biggest, most active community of fellow Army football fans you'll ever find. See why this community has been the epicenter of the Black Knights' fanbase for more than a decade and a half.
**
No one provides analysis like GoBlackKnights.com. No one gives you more scoop. Now, no one gives you more gear.
**** To begin a new GoBlackKnights.com membership, SIGN UP HERE ****
Please provide a valid email address. Rivals.com needs it to contact you with your gift card.
The promo code 99Cyber must be entered in order to take advantage of the offer.
Rules and restrictions:
- This offer is for new annual subscriptions only or current monthly subscribers who want to upgrade to annual (directions below).
- Please provide a valid and current email address
- Please allow up to four days for delivery of your code to the email address you provided.
- Please use the promo code "99Cyber" to enroll in the promotion
- Offer is valid only while supplies last.
**** New members SIGN UP HERE ****
**** Already registered at GoBlackKnights.com, but not a subscriber/member? SIGN UP HERE****