Malik McGue discusses move to slotback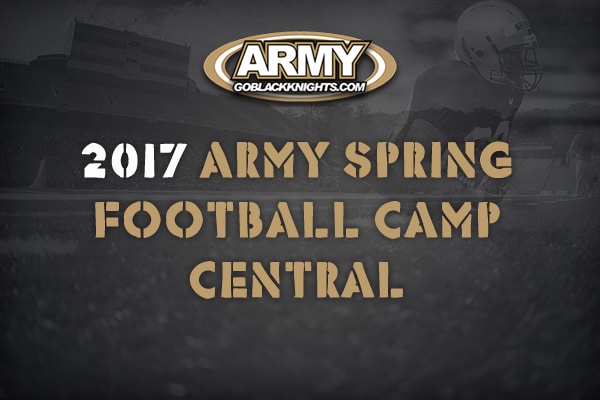 In an effort to bolster one of its slotback positions, the Army coaching staff has made a pre-spring position change, as sophomore Malik McGue is transitioning from the quarterback spot to the slotback position.
Head Coach Jeff Monken had gone on record in his conversation last week with GoBlackBlackKnights.com, that he is very impressed with 5-foot-7, 180 pounder's athleticism. Of course, that Monken and offensive coordinator Brent Davis are hoping that is exactly what he will be bringing to the offense.
In our conversation with the McGue after yesterday's practice, he indicated that he welcomes the switch and is looking forward to making an impact.
"It didn't bother much ... I looked at it as a way to get on the field and I'm willing to do anything I can to get on the field, so I was happy to hear about the move," he stated, explaining when he was first told and his initial reaction. "So now, I'm just trying to make the best of the opportunity and actually, it was Coach [Mitch] Ware the quarterbacks coach who told me about the move."
Needless to say, McGue is aware that there are adjustments that he will have to make when it comes to transitioning into the run oriented Army offense where the he will be called upon to not only run the ball, but block as well.
"I feel like I'm adjusting well and I'm getting a lot of help," he stated. "Coach [Tucker] Waugh is a tremendous coach (running backs) and leaders like John Trainor and Jordan Asberry kind of help me transition a lot. But playing quarterback, you kind have to know those assignments, so my biggest challenge is getting more physical and stronger, having to go up against middle linebackers and try and block them."
"So, I have to get stronger, play a little more physical and I will be ready to go once I do that," added McGue, who took us back to his senior year of high school and what was it that made you say yes to Army West Point and how he has adjusted to attending one of the most prestigious and unique colleges in the nation.
"At first and to honest ... when I first received the offer and I remember running to my mom's room and told her that I was talking to Army," he declared. "I was telling her that there is no way that I am going to go into the Army. She had a talk with me about the entire West Point thing. She told me to do my research, and I started to talk to more and more people and I started to connect with some guys who were already committed and trying to learn more about West Point."
"So, I did learn what it was about, the whole leadership development component, along with the top notch education and the rest of the offers that I had coming out of high school ... there were none that compared to West Point and I took the opportunity and ran with it."
"My experience so far, it has been kind of challenging with the academic pillar, but here they provide a lot of help for you," McGue added. "So for me, my biggest thing was to seek out and find the help. First semester was kind of tough, but now that I have sought the help and used my resources it has been smoother. So, I am trying to get better everyday and develop into the leader that I know I can be."
2017 Army Spring Football Practices
-Tuesday, March 21
-Wednesday, March 22
-Thursday, March 23
-Saturday, March 25
-Tuesday, March 28
-Thursday, March 30
-Friday, March 31
-Saturday, April 1
-Tuesday, April 4
-Thursday, April 6
-Friday, April 7
-Monday, April 10
-Wednesday, April 12
-Friday, April 14
-Saturday, April 15
**To chat with other Army fans about this article and more, please visit The 12th Knight message board**